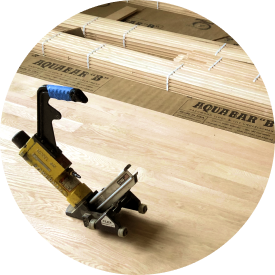 Hardwood floor installation in Boca Raton – Palm Beach FL
Hardwood flooring is one of the most enduringly popular flooring types for modern homeowners. Some people choose this because they want a classic appearance, while others prefer it because it's easier to clean and maintain than other flooring types. Give us a call and we will provide free consultation and quote for a hardwood installation or refinishing and Laminate or LVP (Luxury Vinyl Planks) installation.
Hardwood or Laminate/LVP floors are very easy to keep clean. They can be swept, cleaned with steam or vacuumed. If you spill something, all you need to do is wipe it up – simple as that!

Hardwood floors or LVP are a great way to add value to your home. If you plan to sell soon, you're sure to get more for your house if it has beautiful hardwood floors throughout.

Unlike carpeting, hardwood floors and Laminate are dust-free, naturally antimicrobial and virtually allergen-free.
Laminate/LVP Floor installation
Laminate or LVP floors are the best of two worlds. They are not actually hardwood, but they certainly look like it and they can be installed at a fraction of the cost of a hardwood floor. We will be happy to provide a free quote for your Laminate floors project.
With their extra-thick protective top layer, laminate floors are especially well-suited to withstand small scratches and scuffs. Laminate and LVP flooring has an inherent ability to handle a great deal of pressure per square feet.
Unlike carpet and hardwood floors, laminate and LVP can be snapped together in no time. They require no nails or glue and can be installed in a matter of hours thanks to their special groove-and-click design.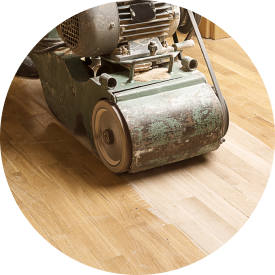 Hardwood floor refinishing
Refinishing your hardwood floors can help restore the shine and wow-factor that you remember from years ago. Even the most dented, scratched and grimy floors can be restored to their original faultless finish. If you need to remove scratches and dents from the hardwood floor just give us a call and we will assist you with it.

When the hardwood floors are sanded and refinished, hardwood floors look remarkably new, which will help you to impress potential buyers and significantly increase the value of your home. Hardwood floors refinish is the all what you need to make your old hardwood flooring brand new again. Breathe new life into your old hardwood floor and preserve the history and spirit of your home.

If you've noticed any kind of damages or scratches to your hardwood flooring, repairing and hardwood floor refinishing it will address safety hazards before they could cause harm. A hardwood floor that is chipped or splintered can become a risk to anyone who has to walk on it so it's in your best interest to invest in maintaining your hardwood floor with experienced professionals LUKS Construction.
Staircase installation and refinishing
A hardwood staircase is much more than just a functional and practical way to connect the different levels of your house. When installed and maintained correctly, it can also become an attractive focal point in your home and add great value to your house. We are at LUKS Construction are the best specialists on a hardwood stairs installation and finishing.
We will design and build your hardwood staircase to meet the exact requirements of your space and install it in a matter of days. Once installation is complete, our refinishing plans will ensure that your stairs do not sag, creak or crack, leaving you with a staircase that will be safe and secure for the rest of your life.
Having a solid and sturdy hardwood staircase installed in your home will not only make your home more attractive, but it will also add value to your property, allowing your real estate asset to grow in potential over time.